Wash & Fold Plans and Pricing
Everyone's laundry needs are different. That's why we have designed four different monthly laundry plans to fit the needs of virtually anyone! We want to help you save money, so the more you prepay, the more you save. Plus, if you go over, you get a discount per pound as compared to customers who are not on a plan.
Didn't use all your pounds this month? We got you covered. Each plan includes some rollover pounds that you can use the next month.
Please note that our plans currently only include wash & fold with default preferences. Any specialty preferences will still be charged on a per-pound basis, and dry cleaning will be charged per item.
Base rate for Wash & Fold service without a plan: $1.59 per pound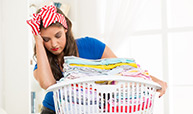 The "Not This Week..." Plan
$49.99 for 35 lbs. = $1.43/lb.!
Up to 10 pounds rollover
$1.49 per pound after plan used up
This plan is perfect for that one week every month that you just don't want to deal with laundry. Don't get behind! Leave it to us!
---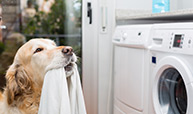 The Helping Hand
$89.99 for 70lbs. = $1.29/lb.!
Up to 20 pounds rollover
$1.49 per pound after plan used up
Let us help your family out! Skip the laundry and save big. This plan is perfect for 1-2 family orders per month, or up to 4 small orders per month.

---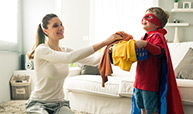 Mom's Hero
$159.99 for 135 lbs. = $1.19/lb.!
Up to 35 pounds rollover
$1.29 after plan used up
Calling all moms who are busy, tired, and hate doing laundry—this plan is for you! Let us pick up your laundry 2-4 times per month to lighten your load.

---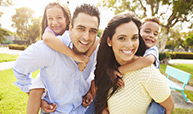 The Happy Family
$249.99 for 240 lbs. = $1.04/lb.!
Up to 60 pounds rollover
$1.09 after plan used up
Bask in the luxury of never folding your clothes again. This plan is perfect for families who would like us to do all of their laundry, with pickups 1-2 times per week.
How it Works
Leave your laundry and dry cleaning on your doorstep (or bring it to work with you for office delivery).
We pick up your clothes and care for them according to your preferences.
We deliver your clothes back to you, clean and folded!

Questions: Send an email to info@easylaundry.net